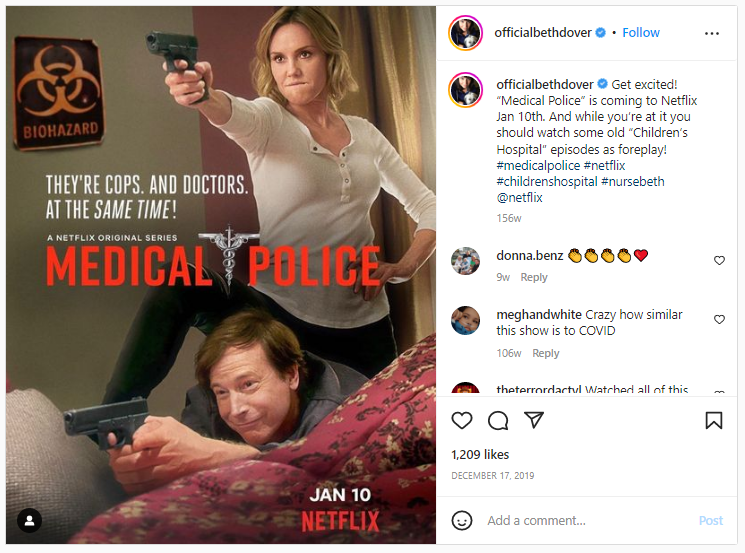 Medical Police is a fun and quirky spin-off from the first web-based and then TV-aired Children's Hospital. The show stars Doctor Lola Spratt, played by Erinn Hayes, and Doctor Owen Maestro, played by Rob Huebel. Both were in the Children's Hospital, and in this one, they continue their witty humor. In this particular show, Dr. Spratt and Dr. Owen move less within the confines of a medical drama and more in an international spy drama as they travel all over the world as doctors in an investigative role, as referenced in the show's name.
What Is Medical Police About
The show starts off with the duo working in Sao Paulo, Brazil, as medical doctors in service of the American expatriate community. Lola comes across a strange virus that appears to be a potential global threat when she visits a university student who has been admitted to the hospital with a strange rash on the neck. The infection does not respond to various medical treatments; there's no known cure for the disease. The story is enhanced when Lola decides to go to the university with Owen, where they discover the university is under quarantine. They eventually come into contact with a secret agent, Sloane McIntyre, played by Sarayu Blue, who is following up on a report Lola had sent to the Center for Disease Control and Prevention (CDC). Sloane then informs them that the outbreak could be a result of bioterrorism and that they are still looking for a cure.
The show really resembles our ordeal with the virus. All the issues we experienced with unknown symptoms and various treatment suggestions didn't quite work at first. Fortunately, now we have a handle on the disease, as vaccines, medications, and treatment options can be found easily at CVS Pharmacy and various other medical facilities. In Medical Police, the search for a cure also took a while, but in the end, everything went back to normal.
Why Watch this Show
The show then moves on to an international adventure with the two doctors, now deputized by Sloane. They start off in Berlin, then travel to multiple international locations, including Sudan and Shanghai, in pursuit of the cure. There's also a lot of dry humor in the show, particularly when they first begin their investigation, with hot takes from big-budget movies and made-up medical terms, to name a few examples. The show is still a must-watch, and with rumors and a running countdown on whenetflix.com of a second season coming, now might be the best time to sit through the fast-paced comedy. Just make sure you're ready for a lot of dry humor, as the show really doesn't take itself too seriously.